It is Sunday and according to my new schedule, that should mean Studio Sunday. To be honest, given that I've just completed five orders, my studio is only one thing -- a mess.
With three more signs to do soon along with a magnet order, I will need to spend tomorrow afternoon on a quick clean up. Then it will be time to stock up on a few supplies and get going again.
With that said, I am wanting to share a few things I'm liking (being Sunday and all).
1) Jurassic Park - watching it with the fam. Man that scene when the when the water cups start shaking. OMG.
2) The SlyFox shop on Etsy for jewelry. A little more than I regularly spend but it sure looks worth it. Just everything looks gorgeous. I know these earrings are basic but that may be why I love them.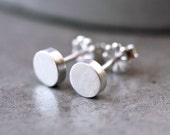 4) This or something like it for one of the walls in our "family" room. I could make the Family sign with scrabble pieces or freehand, then make sure there are pics of all four of us and either each of our initials or our last. I hate to admit that for a person who makes and sell home decor, I have lots of empty space on my wall. I need to commit to doing something about that and including it on this blog. Now the question is which room to start with... living room, family room, master bedroom, or what?
5) Repurposing golf tees! It's been ages since I've played golf (and remarkably I did letter in the sport) -- but using them to stop up your toothpaste, to hold your corn cob, or stake a helium balloon in the ground are all brilliant and fun. Thank you Martha Stewart for featuring this idea in the latest issue of REAL SIMPLE magazine! It made my night!
Well now it is time for me to finish watching "Pirates of the Carribean" -- can't get much better than Johnny Depp AND Orlando Bloom in the same movie!
Ciao for now,
Mama Zuzi